The crypto sentiment echo chamber on Twitter's best bearish argument currently is the fact that Bitcoin isn't immediately following the Nasdaq and the rest of the stock market ripping higher.
However, when zooming out, the long-term correlation remains "very strong" and BTCUSD could just have a little catching up to do.
All of crypto Twitter right now: "#Bitcoin is showing such weak correlation with the Nasdaq"
Meanwhile, the correlation coefficient remains at a "very strong" 0.85 positive correlation on the monthly chart
There is just a little catching up to do pic.twitter.com/AbaJPhNx8U
— Tony "The Bull" (@tonythebullBTC) June 13, 2023
Stock Market Makes 52-Week High, Leaves Crypto Behind
This week, the S&P 500 made a new 52-week high, following the Nasdaq 100 and tech stocks. One asset that isn't following along, is Bitcoin. And crypto bears want to make sure you know it.
It quickly became a hot topic among crypto Twitter. But when removing red-colored glasses and any bias related to the ongoing SEC drama, and the facts are simple: the correlation between BTCUSD and the NDX remains "very strong" according to the 1M correlation coefficient.
The correlation coefficient measures the strength and direction of the relationship between to assets. Correlations could be weak or strong, positive or negative.
Portfolio managers look for negatively correlated assets to diversify risk since these assets do not move together. Positively correlated assets do move together.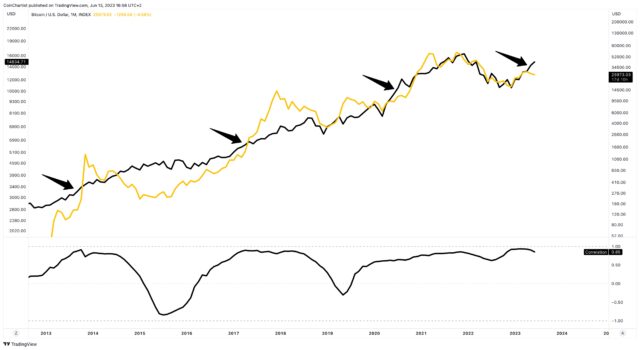 Bitcoin And Nasdaq Correlation Remains "Very Strong," Likely To Continue
The chart above highlights the fact that the correlation between BTCUSD and the NDX gives a "very strong" reading of 0.85. A perfect positive correlation would be 1, making the top cryptocurrency and basket of tech stocks as tight as most relationships get.
Furthermore, the chart demonstrates that each time the NDX outperforms Bitcoin and there is a lag in crypto, the market more than makes up for it with a massive catch-up move.
Shortly after this, speculation becomes detached from reality and BTC puts in a local top. Currently, crypto is lagging the stock market. Will it once again switch to relative outperformance? Or is crypto finally doomed this time?
Learn more about this chart in from CryptoBullGod on YouTube below.