Despite its ongoing legal imbroglio with the United States Securities and Exchange Commission (SEC), blockchain payments firm Ripple continues to expand its operations in Europe and Asia. Speaking at the Money 20/20 event in Amsterdam, Ripple's managing director for Europe and the United Kingdom, Sendi Young, outlined the firm's growth amid regulatory scrutiny back in the United States.
Notwithstanding the rigorous US crypto regulations, the European Union is making strides toward creating a more comprehensive and transparent regulatory framework for the crypto sector. The Markets in Crypto-Assets (MiCA) legislation, signed into law on May 31, is set to become a cornerstone of crypto regulation across Europe.
Ripple Flourishes Outside US Borders
The gap in regulatory attitudes towards cryptocurrencies between the US and Europe is evident. Young underlined that Ripple's growth in Europe and other markets is a testament to the progressive regulatory oversight there.
She told Cointelegraph:
That lawsuit is very isolated to U.S. regulations or the lack of clarity and certainty thereof. It almost accentuates the kind of environment that we have in Europe and the UK.
So far, Ripple continues to engage in open dialogue with regulators and policymakers, nurturing an environment where businesses can grow and innovation can flourish. Young acknowledges the conducive climate in the UK and Europe, which she believes is setting global standards.
She also added that "It does enable business to grow and innovation to happen. I would say we're very fortunate in this sort of UK, Europe environment which is setting standards globally."
MiCA Legislation: A Catalyst For Mainstream Adoption
Within the context of Europe, Young considers the MiCA regulatory framework a critical driver in promoting fair competition and innovation in the crypto industry. Moreover, she believes that such legislation will drive traditional financial players to adopt crypto.
According to Young, clear regulation facilitates mainstream uptake and the realization of crypto's potential. Young sees these regulatory measures as a first step towards the broader adoption of digital assets.
Notably, Ripple's expanding suite of services is designed to plug into an increasingly interlinked financial ecosystem. This expansion is partly driven by fiat onramps and offramps, and the development of central bank digital currencies (CBDCs) and stablecoins.
Young underlines the importance of interoperability between various currencies and CBDCs, stating that the ability to seamlessly move between these assets will be critical for the future financial ecosystem.
Veering back to Ripple, the recent disclosure of the Hinman documents amid the ongoing lawsuit between Ripple Labs and the US Securities and Exchange Commission (SEC) has triggered significant upheaval in the XRP and broader cryptocurrency communities recently.
The emails uncovered that Bill Hinman, previously in charge of the Division of Corporation Finance Regulation, bypassed the instructions of other senior SEC officials, effectively independently categorizing Ether (ETH) as not being a security.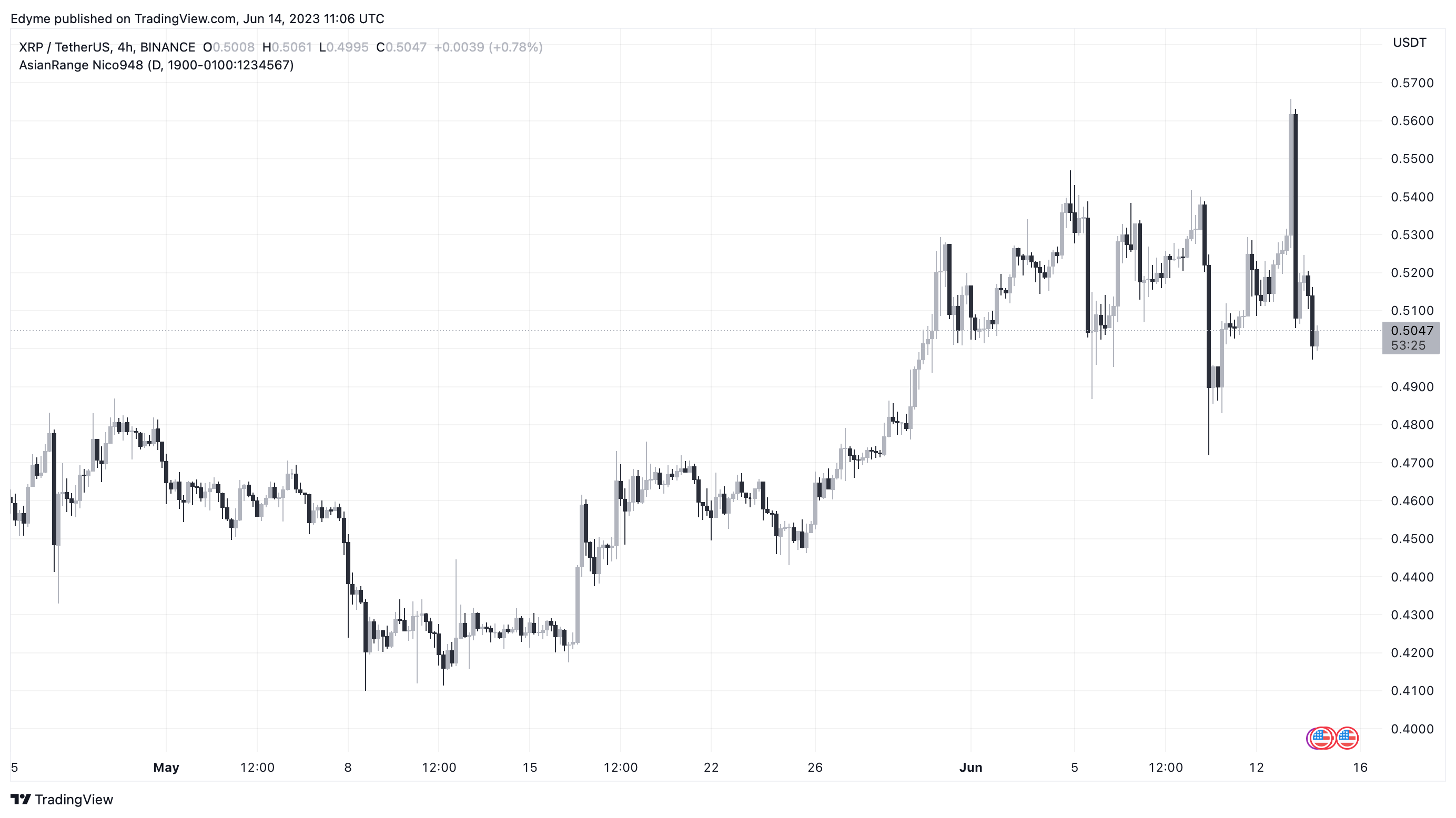 XRP price chart on TradingView amid Ripple news" width="2768" height="1556">
Meanwhile, despite the document's impact, XRP has continued a decline in the past 24 hours down by 4.9%. The asset currently has a trading price of $0.507322 with a trading volume of more than $3 billion.
Featured image from Shutterstock, Chart from TradingView