The XRP community has been digging through the recently released 400+ pages of Hinman documents in the legal battle between Ripple Labs and the US Securities and Exchange Commission (SEC), examining why the former director of the SEC's Division of Corporation Finance, Bill Hinamn, gave Ethereum (ETH) a free pass as a non-security.
As NewsBTC reported, Hinman spoke on the phone with Ethereum co-founder Vitalik Buterin ahead of his speech to ascertain how Ethereum operates. In addition, Hinman defied the recommendation of the SEC's Office of General Counsel (OGC), which opposed including ETH in the notorious speech.
New Revelations By The XRP Army
XRP community member Ashley Prosper has read the Hinman documents in full and found some interesting stuff regarding Ethereum and Bill Hinman. To recall, Hinman returned to the law firm Simpson Thacher, which is also part of the Ethereum Enterprise Alliance, in 2020.
According to Prosper, the documents reveal how Hinman was pushed hard by Simpson Thatcher and ConsenSys to give the Ethereum Free Pass speech. Hinman intentionally refrained from sending the speech to any of the commissioners except Jay Clayton because it would, in his words, "slow down the process significantly."
In addition, Hinman stated that he researched Ethereum in depth before giving his speech. Still, he could not answer how much Ether (ETH) Joe Lubin, Vitalik Buterin or the Ethereum Foundation owned, or who was funding the Ethereum Foundation.
The XRP Community member also speculates that the SEC is so concerned about the revelation of Joseph Lubin's name that it has blacked out any mention of the name "Joe" in Hinman's interview. Even when it was about Joseph Grundfest. Prosper further states:
Jorge Tenreiro [SEC attorney] is fighting tooth and nail in Hinman's deposition to prevent any answers related to ETH, Ethereum, Consensys, or Lubin. Just look at how he approaches the ETH questions compared to the Bitcoin ones.
#XRP #XRPCommunity The SEC is so worried about revealing Joseph Lubins' name that they redacted every reference to the name Joe in Hinmans deposition. Even when it belonged to Joesph Grundfest, whom they already identified by name. The fear is real… what does @ethereumJoseph… pic.twitter.com/j9vUnuHIOy
— Ashley PROSPER (@AshleyPROSPER1) June 15, 2023
Yet Prosper found a passage in the documents that reveals Hinman had four to five meetings with ConsenSys, as well as face-to-face conversations with people associated with the company.
Renowned XRP community member Mr Huber speculates, based on Prosper's findings, that the reason for the urgency of the speech was to exempt Ethereum from the ethics provision coming into effect the next week, which would have required all government employees to disclose their ETH holdings.
"Hinman's speech not only prevented that from happening, it also ensured that many politicians joined Ethereum afterwards, which is why people are still trying to cover it up," Mr Huber says.
Renowned XRP lawyer Jeremy Hogan has a similar suspicion. He claims Hinman was paid to "give ETH a free pass". In an interview on CryptoLaw, Hogan speculated that an Ethereum member bribed Hinman to give ETH a free pass during the speech:
My speculation is that Ripple's position here is that Bill Hinman was somehow paid, and he was paid by the Ethereum Foundation or someone related to Ethereum to give the speech, give Ethereum a free pass.
However, Hogan also clarified that Ripple does not want to make accusations against others like the Ethereum Foundation, presumably because there is not enough evidence.
At press time, XRP changed hands for $0.4735, down 6.3% in the last 24 hours.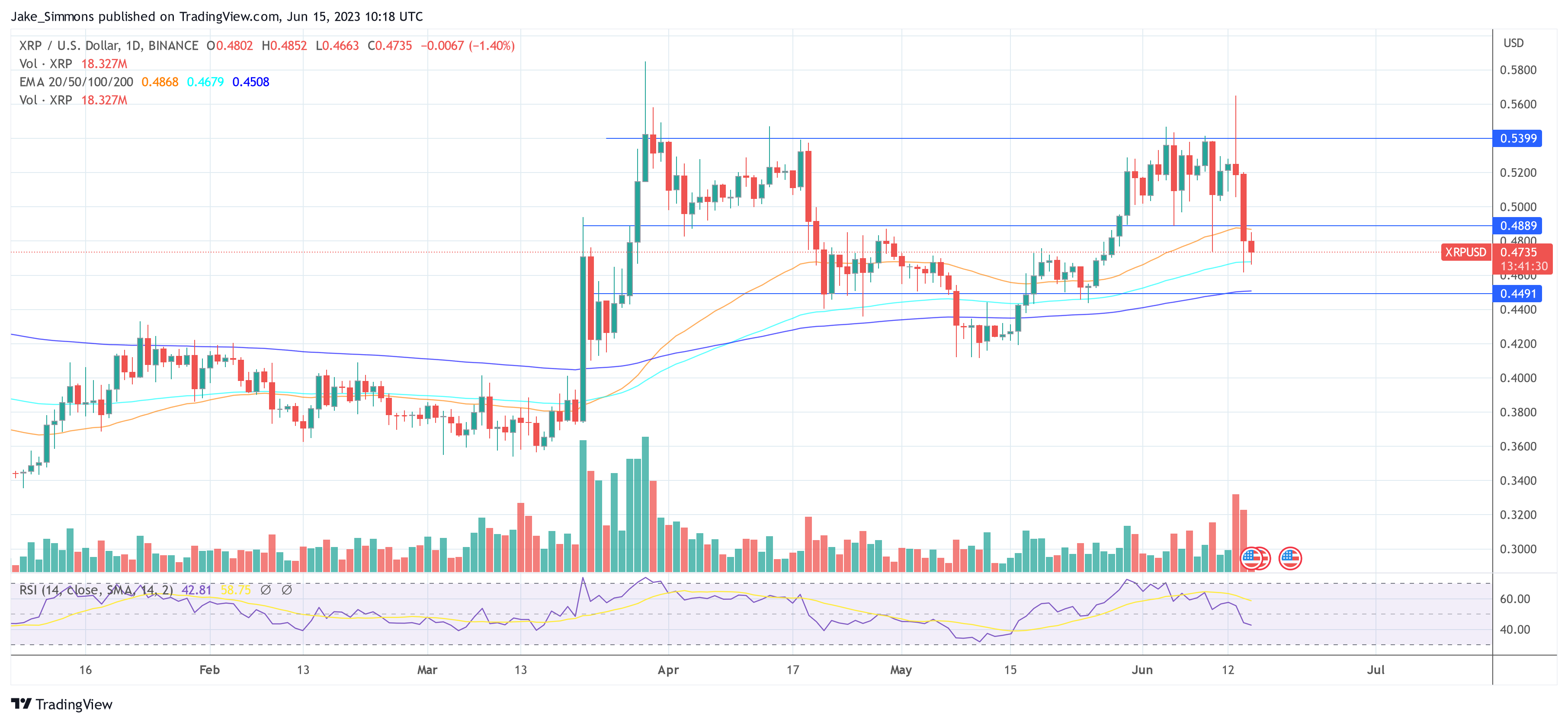 XRP price" width="3625" height="1672">