Binance appears unfazed despite the recent U.S. Securities and Exchange Commission (SEC) charges. The crypto exchange announced the launch of another batch of subscription-based cloud mining services for Bitcoin on Wednesday, June 14.
Binance first unveiled its cloud mining services in November 2022. With the cloud mining services, users can earn mining rewards from Binance Pool without mining equipment.
BTC Cloud Mining Service Kicks Off On June 15
According to the exchange's blog post, the subscription for the new batch started on June 8 and will end on June 15, 2023. The subscription format follows a first-come-first-served model. Also, users must have a verified account to complete it.
The subscription to the new batch of cloud mining products allows users to purchase hash rates and start accumulating mining rewards in their funding wallets from June 15. Bitcoin mining equipment or hardware is expensive to purchase and maintain and consumes large amounts of electricity for retail users.
Due to this issue, Bitcoin mining may be less profitable for solo miners. So, most miners subscribe to mining pools where they cooperate to mine blocks and distribute rewards based on each entity's contribution. According to the company, Binance created its mining pool to help improve miners' income, allowing them to purchase hash rates and earn mining rewards.
Binance Pool launched its cloud mining on November 22, 2022, allowing users to subscribe and buy hash rates. Binance's cloud mining services suffered power outages from an extreme winter storm in North America in December 2022, barely a month after the launch.
The exchange announced three days extension of the cloud mining subscription to compensate for the power outage.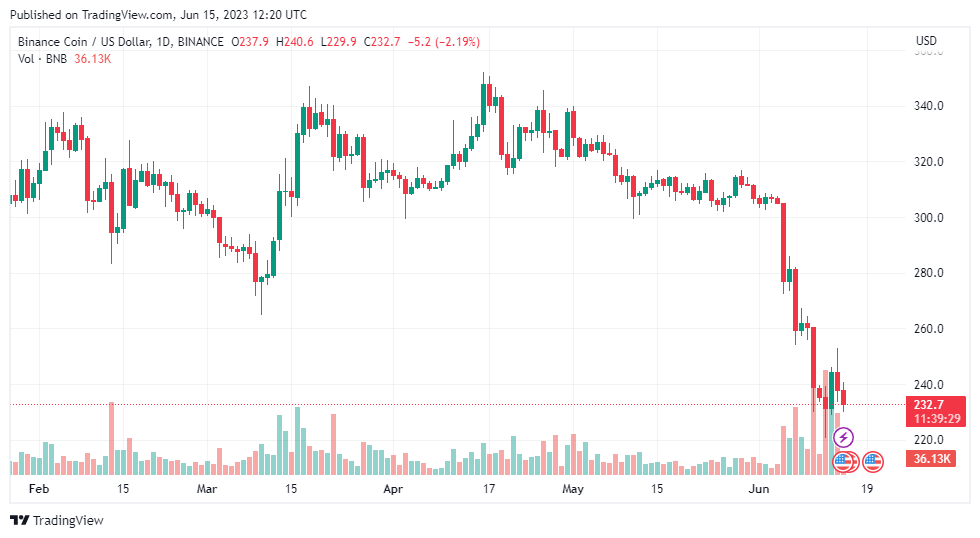 Binance At A Cross Chair With US Regulator
The latest development comes amid heightened regulatory scrutiny and enforcement action against the crypto exchange in the United States. On June 5, the US Securities and Exchanges Commission (SEC) filed a lawsuit against Binance, alleging it offers unregistered securities.
Following the lawsuit, the regulator issued a temporary restraining and show cause order to Binance, demanding the exchange to freeze assets and explain why preliminary injunction order should not be granted. On June 7, Binance, Binance US, BAM Management Trading, and CEO Changpeng Zhao received a summons to appear before the Columbia District Court within 21 days.
Amid the heated regulatory pressure, Binance removed over 100 advanced trading pairs, including BCH/BTC, DOT/BTC, and ATOM/BTC. The crypto exchange announced the removal of the trading pairs on Wednesday, June 7, 2023.
After careful consideration, the blog post noted that Binance.US removed BTC and BUSD advanced trading pairs. According to the announcement, the removed trading pairs seized to exist on the trading platform on June 8, while deposits and withdrawals will continue to function normally.
Another June 15 announcement suggests the exchange has removed more trading pairs. Although the crypto exchange did not specify the reason for the move, it assured users that their assets were safe on the platform.