Microstrategy founder Michael Saylor predicts a significant transformation in the crypto industry, with Bitcoin taking center stage, while other cryptocurrencies face a challenging regulatory landscape.
MicroStrategy's Michael Saylor Foresees 10x Growth For Bitcoin
According to MicroStrategy's Michael Saylor, regulatory clarity will be the catalyst for BTC adoption and lead to a Bitcoin-centric future in the US crypto industry. In an interview with Bloomberg, Saylor expressed his belief that recent regulatory actions, including the SEC's lawsuits and declarations, are laying the foundation for the next BTC bull run.
Saylor highlighted the importance of regulatory clarity in eliminating confusion and anxiety among institutional investors. He noted that regulators have reservations about "crypto securities" and envision a future where crypto exchanges primarily trade and hold pure digital commodities like Bitcoin.
The recent SEC lawsuit against Coinbase, accusing the exchange of listing unregistered securities, exemplifies the regulatory crackdown on tokens apart from BTC. While the SEC has classified Bitcoin as a commodity, Saylor believes the crackdown on stablecoins and other tokens will drive Bitcoin's dominance back above 80% of the total crypto market.
In the interview, Saylor highlighted regulators' lack of enthusiasm for stablecoins, crypto securities, and tokens, signaling a rationalization of the industry. He emphasized Bitcoin's status as the only institutional-grade investable asset in the crypto space, recognized globally as a digital commodity.
Saylor's previous stance on Ethereum classified it as a security due to its ICO, pre-mine, and management team. As such, his focus remains on BTC'S potential for exponential growth, stating that the logical progression for BTC is to increase its value tenfold and repeat the process.
With the increasing recognition of BTC's unique qualities, Saylor envisions a future where BTC flourishes, setting the stage for a transformative period in the US crypto industry.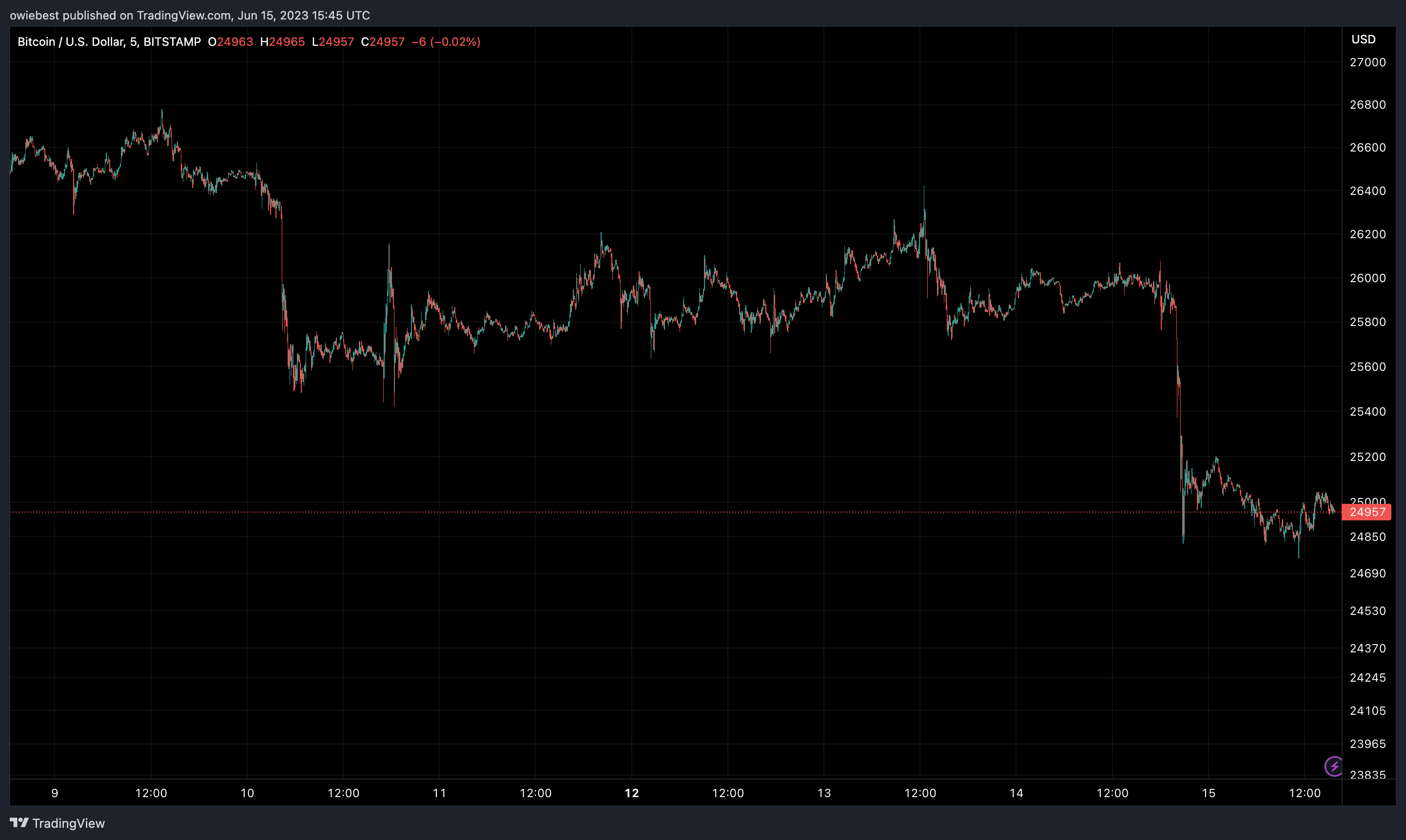 BTC0 price chart from TradingView.com" width="2884" height="1724">
Saylor believes the industry is destined to evolve into a Bitcoin-focused sector, with a limited number of proof-of-work tokens remaining alongside BTC. He further added on his official Twitter page that the regulatory process and actions will only favor BTC.
Despite recent market fluctuations, Saylor remains steadfast in Microstrategy's bullish bet on BTC. While some argue alternative cryptocurrencies like Ethereum could yield higher profits, Saylor dismisses such notions, emphasizing BTC's unmatched potential.
He believes that the general public is gradually awakening to the fact that "Bitcoin is the next Bitcoin." Saylor predicts BTC'S value to multiply tenfold, followed by further exponential growth.
MicroStrategy has exclusively invested in BTC as its only cryptocurrency investment in the last two years, with 140,000 BTC acquired at an average price of $29,803 per coin, demonstrating its long-term belief in BTC as an investment.
As the crypto industry navigates increasing regulatory scrutiny, Michael Saylor's vision of a Bitcoin-centric future sparks debate among industry participants. The role of regulators and the impact of their decisions on the industry's evolution are one of the main subjects of discussion.