As a professional trader, you're always on the lookout for platforms that offer cutting-edge tools, a wide range of instruments, and high liquidity. PrimeXBT, a rapidly growing cryptocurrency trading platform, has become a preferred choice for many seasoned traders.
With a broad range of features tailored to suit the needs of pros, PrimeXBT presents a compelling case. Let's explore why this platform is a top choice for professional crypto futures trading.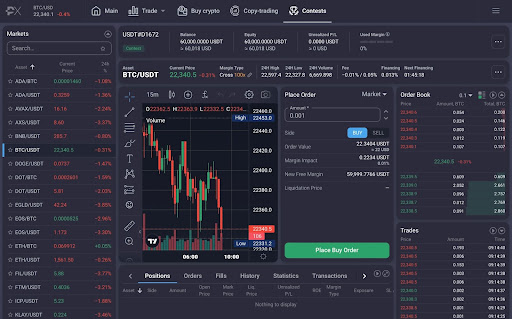 PrimeXBT crypto futures advantages
Right off the bat, PrimeXBT stands out with its advanced trading tools and user-friendly interface. While the platform is straightforward enough for beginners, it truly shines when experienced traders leverage its advanced functionalities.
One of the main advantages that PrimeXBT offers is its high leverage – up to 200x for cryptocurrency futures. As a professional trader, you clearly understand the implications of leverage. It's a tool that, if used responsibly, can exponentially increase potential profits, but comes with added risk. PrimeXBT's sliding leverage system allows for flexible risk management, letting you adjust the level of leverage for each trade.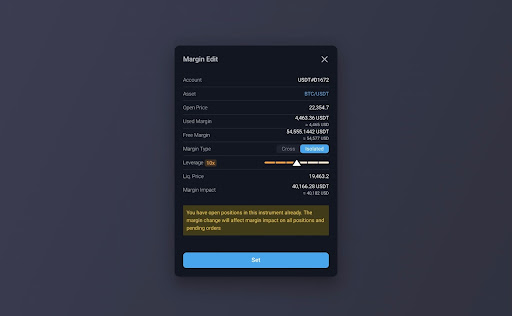 PrimeXBT boasts a diverse range of cryptocurrency pairs for long and short trading. This diversity gives you the opportunity to profit from price movements across a variety of markets, not just the major ones. It opens up possibilities for more nuanced strategies like pairs trading and arbitrage.
The platform provides market, limit, and stop orders, with the additional benefit of adding stop-loss and take-profit orders. These can be critical tools in your trading strategy, giving you the ability to secure profits and limit losses automatically, thus offering improved risk management.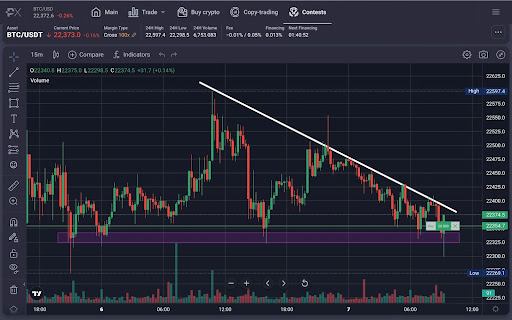 Advanced charting capabilities are another key feature that pros can utilize. These tools, coupled with a plethora of technical indicators, help you conduct detailed market analyses and make informed better decisions. The customizable trading workspace lets you tailor your analytical setup to your specific requirements, enhancing your efficiency and productivity.
CFDs on forex, commodities, and stock indices are other instruments that PrimeXBT offers, which can be utilized to diversify your trading portfolio. With the recent addition of base metals such as Copper, Nickel, and Aluminum to its CFD offering, you can take positions on these assets to hedge against crypto market volatility or capitalize on global economic trends.
Why pros choose PrimeXBT crypto futures
For a pro trader, the ability to trade on-the-go can make a significant difference. PrimeXBT understands this need and has a comprehensive mobile application to cater to it. The app, available for iOS and Android devices, mirrors the full functionality of the desktop version.
You can access real-time market data, execute trades, monitor open positions, deposit and withdraw funds, all with just a few taps. As a professional trader, this allows you to seize trading opportunities as they arise, no matter where you are.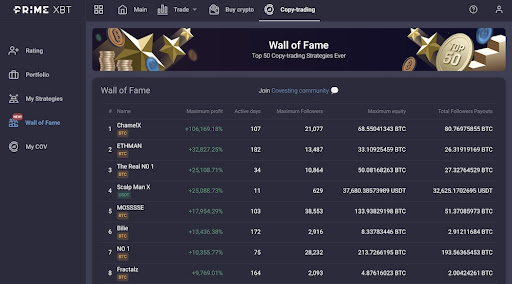 If you are indeed a successful trader, PrimeXBT's copy trading feature allows you to monetize your trading prowess. By becoming a Strategy Manager, you can share your strategy with other traders who can follow your trades. In return, you earn a portion of the followers' profits, providing an additional revenue stream.
Another unique feature that PrimeXBT offers is its trading contests. These weekly competitions pit traders against each other, offering an opportunity to earn additional rewards. As a pro trader, you can leverage these contests to test your trading strategies, measure your performance against other traders, and possibly boost your earnings.
PrimeXBT's competitive trading fees also contribute to enhancing your profitability. The platform offers a tiered fee structure, with the fees reducing as your trading volume increases. As a high-volume trader, this can translate to significant savings over time.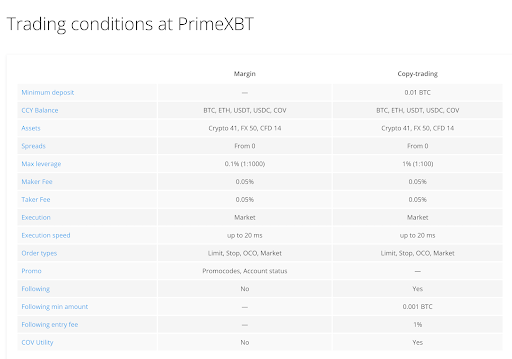 In the world of digital assets, trust and reputation matter a lot. PrimeXBT has built a solid reputation since its inception in 2018. The platform employs robust security measures including cold storage for funds, encrypted data storage, and mandatory two-factor authentication (2FA) to protect user accounts. Furthermore, PrimeXBT has a clean track record, with no reported incidents of hacks or major security breaches.
Additionally, PrimeXBT's customer service is available 24/7 through live chat and email support. Their commitment to customer satisfaction and platform security builds trust among its users, an essential attribute for professional traders who handle significant amounts of capital on the platform.
Conclusion: PrimeXBT for professional traders
In a nutshell, PrimeXBT provides a comprehensive suite of tools and features designed to help professional traders maximize their profits and manage risks effectively. The platform's high leverage, diverse selection of cryptocurrencies, advanced charting tools, and unique features like copy trading and contests make it a compelling choice for pro traders.
The key to successful trading lies not just in the ability to predict market movements but also in choosing the right platform that complements your trading style and strategies. PrimeXBT, with its advanced offerings, is a platform worth considering for any professional trader. Remember, as with all trading, it's important to do your due diligence and trade responsibly.