Data shows that Bitcoin dominance has risen to a value of 47.6% as investors have been rotating their altcoins into BTC.
Bitcoin Dominance Has Gone Up By 7.6% Since The Start Of 2023
As the on-chain analytics firm Glassnode pointed out, alts are being constantly rotated into the original cryptocurrency. The "dominance" here refers to the percentage of the total cryptocurrency market cap that the market cap of Bitcoin alone accounts for.
When the value of this metric goes up, it means that the market share of the cryptocurrency is growing right now. Such a trend can indicate that investors prefer to invest in the asset over the current altcoins.
On the other hand, decreasing values of the indicator can be a sign that the holders are relatively losing interest in BTC as the market caps of the other coins are going up instead.
Now, here is a chart that shows the trend in Bitcoin dominance over the last few years: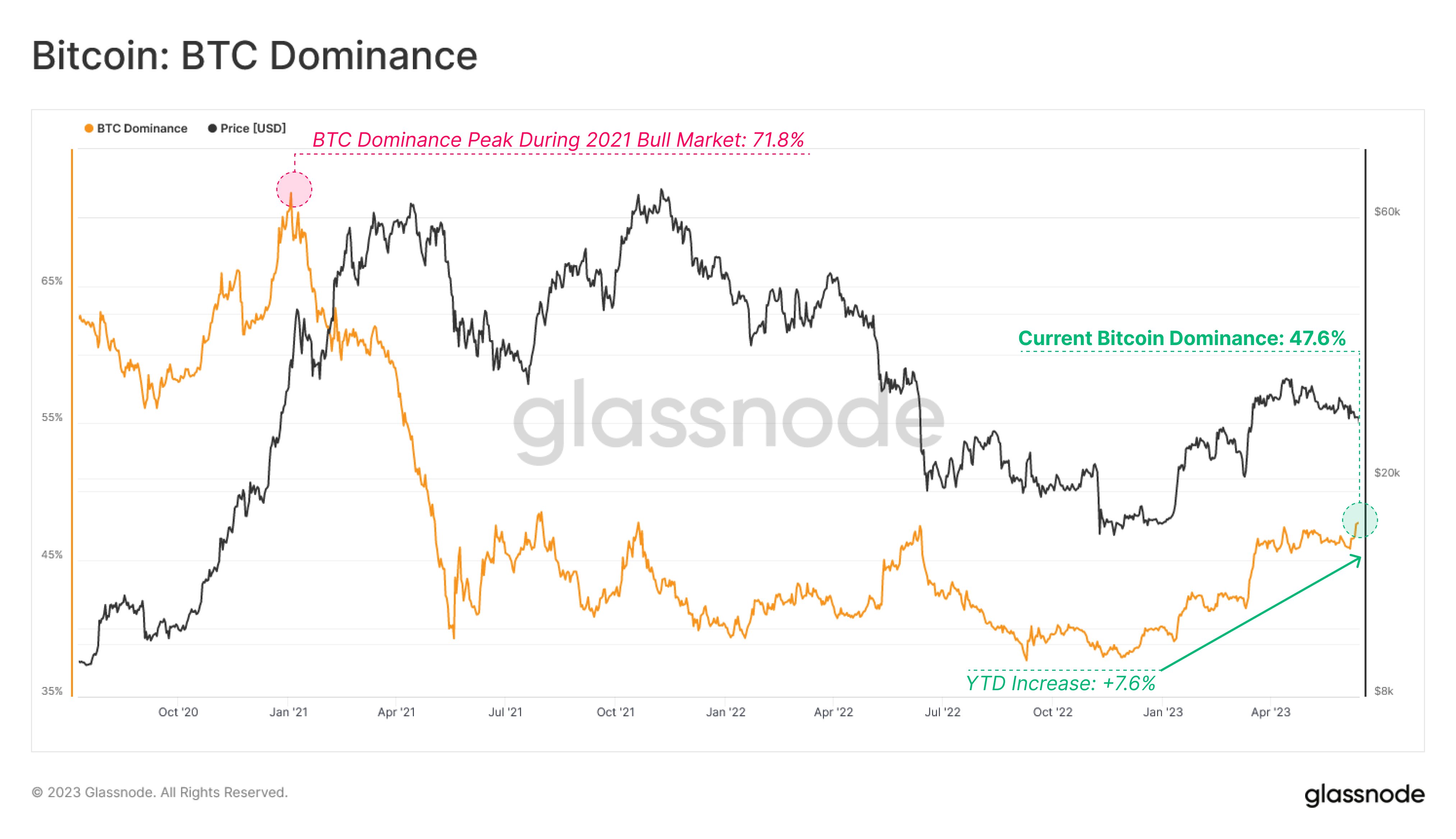 As displayed in the above graph, Bitcoin dominance has been steadily increasing since 2023 started, and the market-wide rally took place. It would appear that BTC was looking increasingly like the best bet in the market to the investors as the price appreciation went on.
In recent weeks, however, the indicator's uptrend had stopped. It was only moving sideways, implying that no additional investment relative to the rest of the market was coming into the cryptocurrency.
The reason is that the rally had slowed down during this period, and before long, the coin had started heading downwards instead.
During the past day, the cryptocurrency has registered further drawdown as the US Federal Reserve has announced that the interest rate hikes will continue this year to combat inflation. However, the increase has been paused for now.
Bitcoin hasn't been the only one that has shown a bearish reaction to this news; the rest of the market has also been down. However, from the above chart, it's visible that the cryptocurrency's dominance has shot up while the latest negative price action has occurred.
This would suggest that although the capital has been exiting from the market as a whole, Bitcoin has still been doing better than the altcoins, as some investors have been rotating their money from the alts towards the number one asset by market cap, perhaps believing that BTC may be a better bet for riding the current storm in the sector.
The cryptocurrency's dominance has now hit a value of 47.6%, meaning that the year-to-date increase of the metric has been around 7.6%.
At the time of writing, Bitcoin is trading around $25,100, down 5% in the last week.