Last week, crypto Twitter's favorite on-chain sleuth ZachXBT revealed that he was being sued for defamation over an expose that he did on a popular figure last year. The tweet quickly garnered sympathy for Zach, and the public has swung in favor of the on-chain investigator once more after it was revealed that the plaintiff, Jeffrey Huang, popularly known online as Machi Big Brother, purchased a $25 million Los Angeles mansion amid the fray of the lawsuit.
Jeffrey Huang's $25 Million Mansion
Amid the turbulence that is the defamation lawsuit currently ongoing between Jeffrey "Machi Big Brother" Huang and ZachXBT, news has circulated of a purchase the latter made not too long ago. According to this report, Huang had reportedly purchased an LA mansion worth $25 million.
The report featured a screenshot of the sale information of the California home which showed that it covered a total 14,000 square feet with five bedrooms and eight bathrooms to boot. It reports that Huang purchased the $25 million mansion last week, around the same time that he would serve his lawsuit to ZachXBT.
The news of the purchase has sparked discussion in the crypto community, questioning if Zach's article on Huang was really as financially damaging to him as he claims in his lawsuit if he is able to purchase such an expensive property.
Images of the home show an incredibly lush and luxurious property designed by the Vantage Design Group. It sits on a 0.51-acre lot in the highly sought-after Bird Streets location in Los Angeles.
ZachXBT Gets $1 Million To Fight Machi Big Brother
Following Huang's lawsuit, ZachXBT took to Twitter to solicit support and donations to fight the lawsuit which he believes could go upwards of $1 million. In a matter of days, Zach's donation wallet has surpassed the $1 million mark.
Huang's lawsuit revolves around a Medium article published in 2022 that alleged that Huang, who was formerly a music executive, had been part of multiple scam projects that rugged investors of over 22,000 ETH. The articles also detailed 10 projects that Huang had been involved in that saw millions of dollars embezzled.
It is still the early stages of the lawsuit so it is yet to be seen what will be the outcome of such a lawsuit. However, Zach has already received overwhelming support from the crypto community who have applauded him for continuing to call out bad actors and making the space as safe as it can be. This has come in the form of small and large donations, as well as countless tweets pledging their support to the on-chain investigator.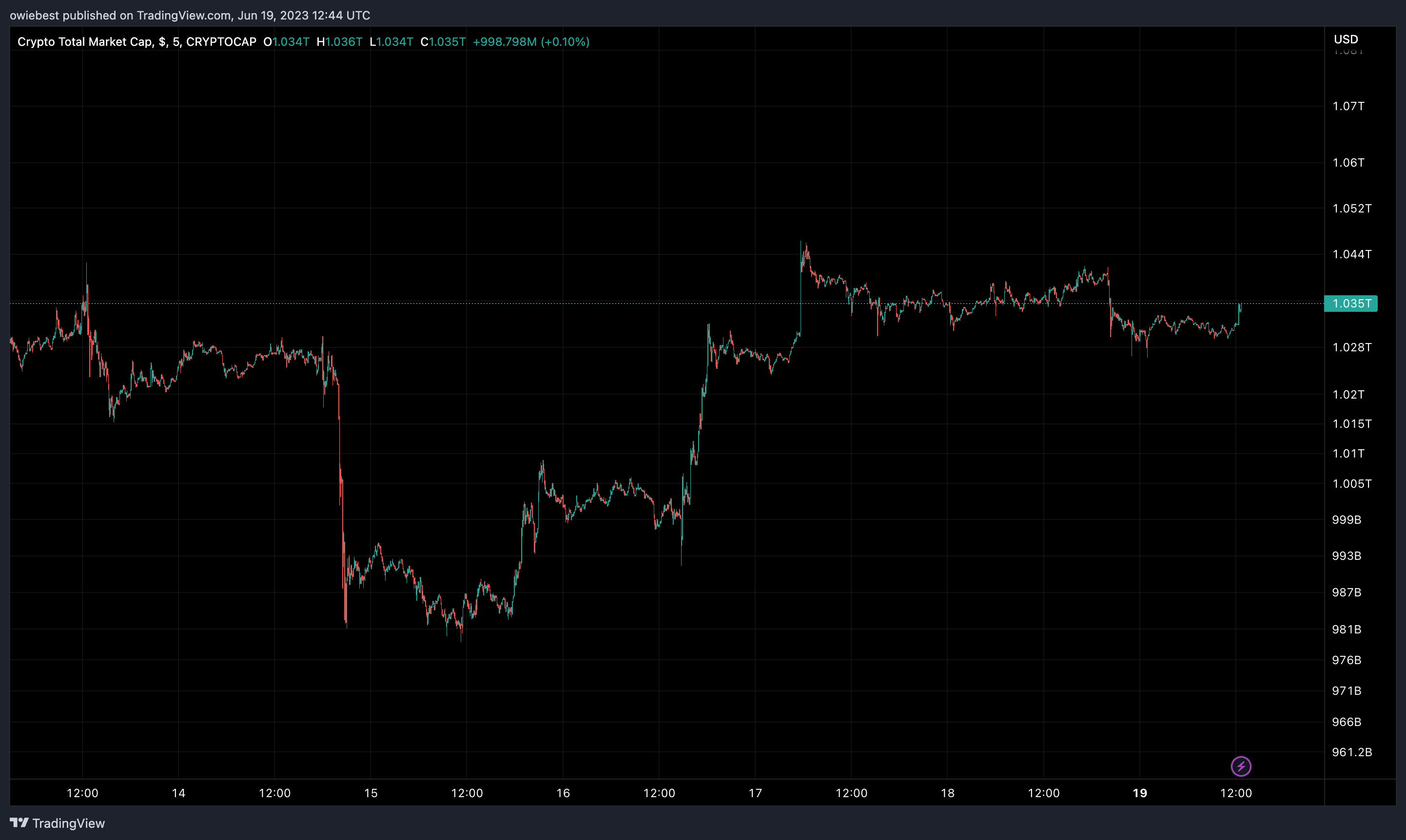 Total market cap sitting at $1.035 trillion | Source: Crypto Total Market Cap on TradingView.com