Binance CEO Changpeng Zhao has taken to Twitter to deny any association with Binance Nigeria Limited which has been mistaken as part of the exchange. As a result, the exchange has now issued a cease and desist notice to the impersonator(s).
False Binance Nigeria Platform Exposed
On June 9, the Nigerian Securities and Exchange Commission (SEC) posted a circular warning citizens to steer clear of Binance Nigeria Limited, a platform where individuals can trade cryptocurrencies. The SEC revealed that the platform was not "registered nor regulated" and as such has been operating illegally in the country.
The entity was falsely associated with the global cryptocurrency exchange Binance and CEO Changpeng Zhao has now publicly denounced Binance Nigeria Limited.
The platform has been shut down but the confusion has exposed a potential case of domain squatting, with the entity's creators aiming to capitalize on the established brand name.
Nigeria's corporate registry website lists four entities with "Binance" in their company names. One of them, Binance Exchange Limited, was registered by an individual who has also registered multiple other crypto-related companies such as OKX Nigeria Limited, Paxful Nigeria Exchange Limited, FTX Nigeria Limited, Huobi Limited, and Coinbase Limited, among others.
Binance Nigeria Limited was registered with Nigeria's Corporate Affairs Commission in December 2019, but its registration is currently marked as inactive.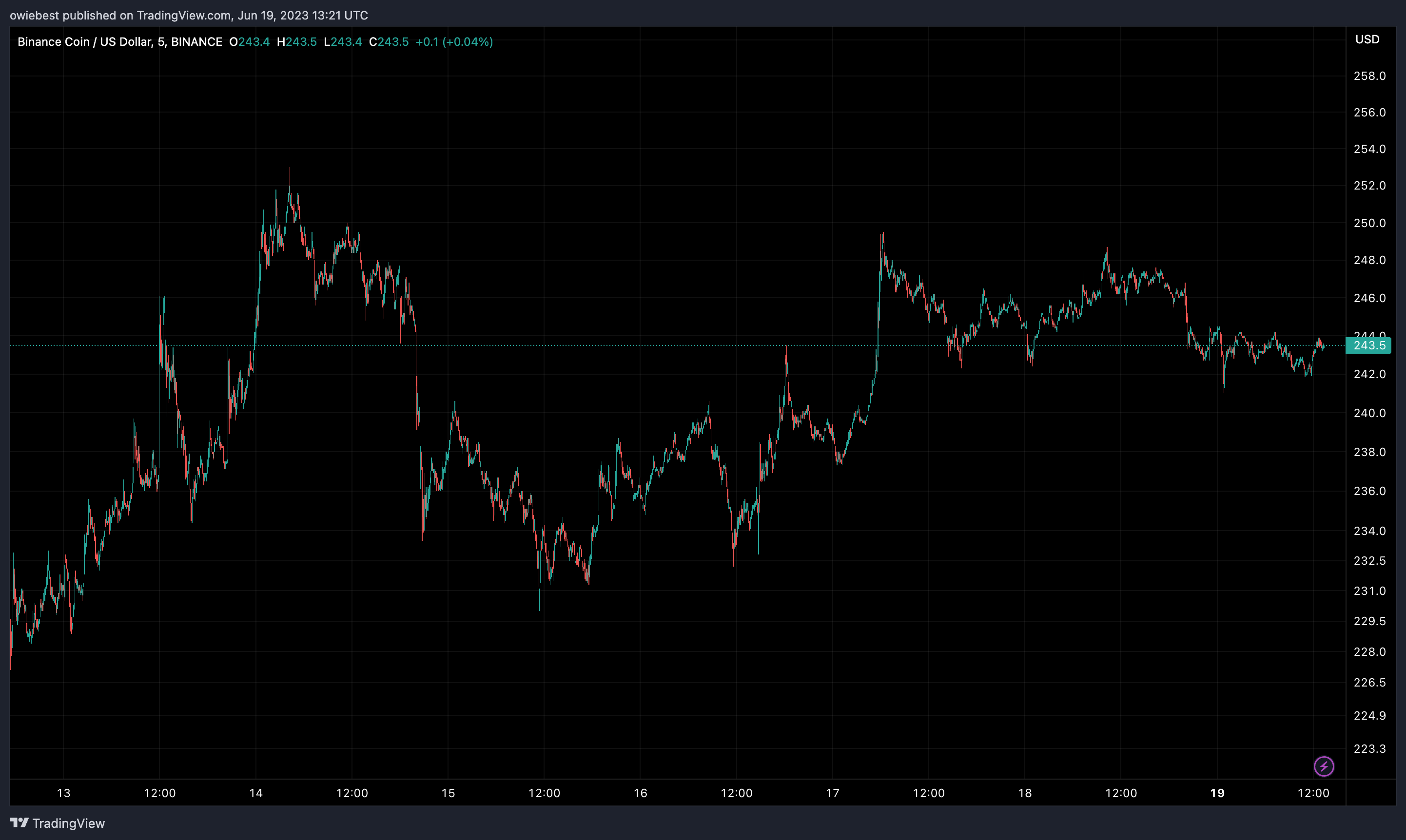 BNB) price chart from TradingView.com" width="2884" height="1724">
The individual responsible for registering Binance Nigeria Limited, Ahassan Ifzal Mughal, has confirmed that the company is not associated with the exchange, and was rather an attempt to make money by registering valuable domains which he could resell.
Mughal explained that he registered the company for "arbitrage purposes" hoping to sell the name to the exchange if they were to establish a local branch in Nigeria.
Nigeria's Crypto Landscape and Regulatory Challenges
Despite a central bank restriction in 2021 that prohibits banks from servicing crypto exchanges, an estimated 22 million Nigerians, approximately 10% of the country's population, own cryptocurrencies.
Nigeria's high crypto ownership is driven by mounting inflation and strict forex controls, with an annual inflation rate of 22%, the highest in nearly 20 years. The devaluation of the Nigerian Naira against the US dollar has led Nigerians to consider stablecoins like Tether USD as a means to safeguard their wealth, especially given the challenges of accessing foreign exchange for average citizens.
Binance's Ongoing Legal Battles
While the controversy in Nigeria unfolds, the exchange is simultaneously embroiled in a legal battle in the United States. The US SEC has filed a lawsuit alleging that the exchange operates unaffiliated entities worldwide, which are linked through its CEO, Changpeng Zhao.
Binance has vigorously contested these allegations, but the Nigerian case demonstrates the complexities of the situation. The exchange's reputation is at stake as it faces regulatory scrutiny on multiple fronts.