The world's largest crypto exchange Binance continues to pull out from the European market. According to the United Kingdom's Financial Conduct Authority (FCA), the company canceled its license to operate in the country.
The U.K. regulator stated in its June 7, 2023 update:
Binance Markets Limited has recently submitted a cancellation request of their FCA permissions which was completed on 30 May 2023 and is reflected on the FCA Register. Following the completion of the cancellation of permissions the firm is no longer authorised by the FCA. No other entity in the Binance Group holds any form of UK authorisation or registration to conduct regulated business in the UK.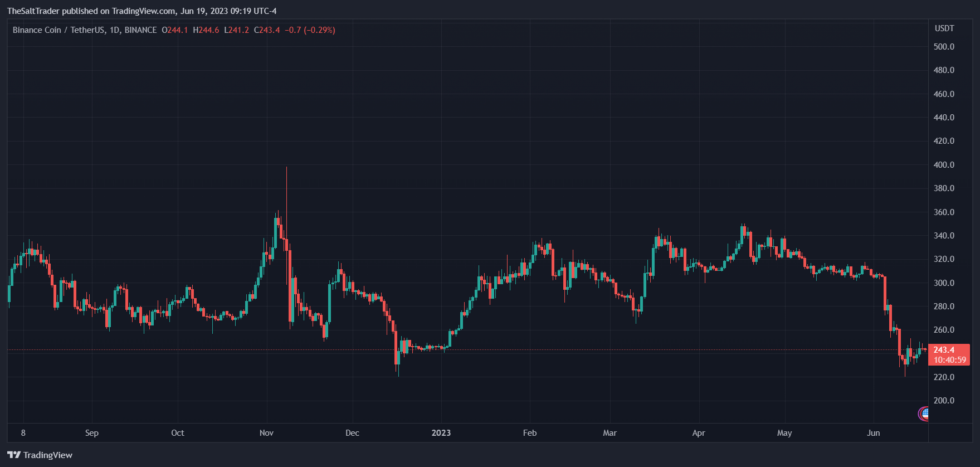 BNB BNBUSDT" width="980" height="467">
Binance On Preservation Mode?
Binance has had a troublesome history with the U.K. regulator. The government entity issued several warnings against U.K. citizens trading on the exchange since 2021.
At that time, while Bitcoin and the crypto market rallied, there was high demand to gain exposure to digital assets. In that sense, the FCA warned its citizens that the company offered cryptocurrencies while operating without a license.
Later that year, after the U.K. regulator imposed Binance with requirements to continue operating in the country, the government entity stated: "The firm complied with all aspects of the requirements." The company finally received its license on May 30th, 2023.
Less than a month later, the crypto exchange canceled its license. Last week, the company exited the Netherlands in a decision motivated by the increasing regulatory pressure from worldwide financial regulators.
The Netherlands denied the trading venue a license to operate in the country. Thus, the company was forced to pull out from the market. The company stated the following in an official statement:
Binance will continue striving to obtain authorizations to provide our products and services to users in the Netherlands. Binance is already compliant with EU standards on the prevention of money laundering and financing of terrorism as evidenced by its registrations in other EU countries, including France, Italy, Spain, Poland, Sweden and Lithuania.
The latter part of this statement seemed targeted at the platform's European users. There has been growing concern that the company will leave the region entirely. Still, Binance claims it is "committed" to continue working with regulators and maintaining operations in the countries where it already has a license.
Cover image from Unsplash, chart from Tradingview