Indonesia's government has deepened the country's crypto adoption with a list of tradable assets. It added Ripple native token, XRP, among the 501 digital assets on the list. With the new revelation, XRP and other listed tokens have received the license to be traded in the country.
Indonesia Authorities Update Regulatory Document For Tradable Crypto Tokens
According to the released regulatory document, the Indonesian government amended the country's former Trade Controlling Agency Regulations Commodity Futures Number 11 of 2022.
Related Reading: Trillions Of Shiba Inu Tokens Hit Break-Even As Meme Coin Price Leaps 10%
The amendment marked a great move toward crypto adoption. Notably, the listed crypto tokens have received the country's approval as legally tradable cryptocurrencies.
The country titled the updated regulation "Supervisory Body Regulatory Commodity Futures Trading Number 4 of 2023." The updated documents determine the assets that could be traded in Indonesia's crypto assets market.
The official Twitter page of Wu Blockchain gave more insight into the list of tradable tokens. It noted that the list covers almost all assets the United States Securities and Exchange Commission classified as securities, including XRP, ADA, ETH, BTC, SOL, DOT, UNI, SAND, etc.
Indonesia's recently updated regulatory measures have sparked several reactions in the crypto space. According to an Indonesian YouTuber, the country has indicated a friendly disposition toward XRP.
Though the country classified XRP as a commodity, the YouTuber is optimistic about the possibility of XRP becoming a payment option in the future.
However, another Indonesian Twitter user Pondok Indah is skeptical of the development. Indah warned against the government's involvement in the crypto industry.
The user mentioned that the authorities should prioritize their activities on regulatory oversight and taxation in the country and not shift to the crypto business.
A crypto enthusiast, Cryptoprenuers, disclosed dissatisfaction with the US's recent classification of XRP as a security through a different discussion.
The tweet noted the difference in jurisdictional regulatory measures across the world. According to the Twitter user, "Again, the US is the only country considering XRP as a security. Such corruption."
Indonesia And Its Crypto Industry
Indonesia, boasting a population of over 270 million people, is gradually recording significant growth in its crypto industry. According to data from Statista, Indonesia recorded about 11.2 million registered crypto investors in 2021. Also, the country was ranked 20th out of 146 nations by Cryptocurrency Adoption Index in 2022.
With Indonesia's increasing cryptocurrency adoption, the country's largest crypto exchange Indodax listed Floki Inu (FLOKI) in April this year.
The move to update its crypto regulations could trigger more positive exposure in the world of digital assets for investors.
Also, by extending its tradable tokens, including XRP and others, under the SEC's radar, there is a possibility that many firms may lean toward Indonesia in the future.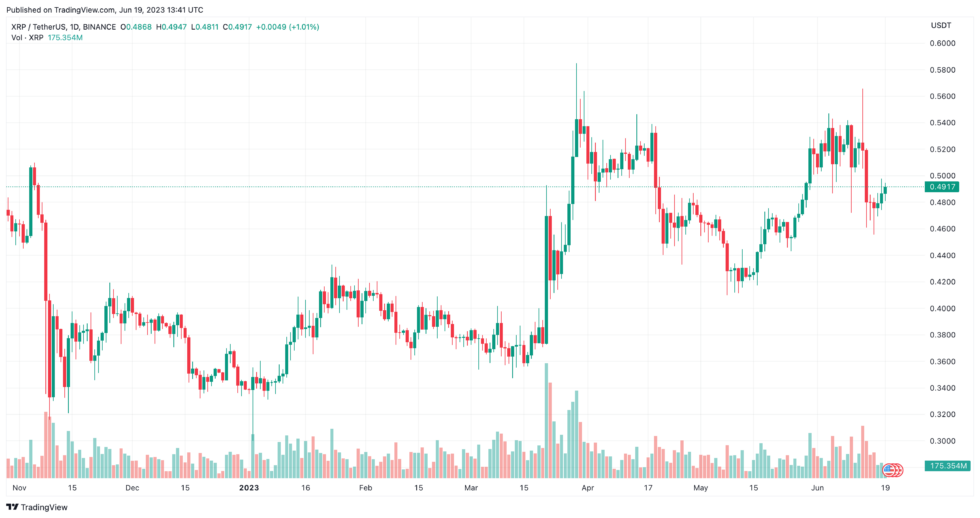 XRP An Official Tradable Status in Crypto Market" width="980" height="518">
Featured image from Pixabay and chart from Tradingview.com