Amid Binance's ups and downs in the crypto market, the exchange's recent donation to prominent crypto on-chain sleuth ZachXBT has sparked controversy among the crypto community. Last Friday, ZachXBT was sued by Jeffrey Huang, also known under his pseudonym, MachiBigBrother over a defamation case.
Following the lawsuit, the crypto detective disclosed that battling the case could cost more than $1 million. He then asked his followers to donate funds to a wallet dedicated to his legal costs. So far, the wallet has amassed more than $1 million in donations with the likes of Binance also contributing.
However, among the notable names that have donated, the crypto community has appeared to initiate a heated discussion about Binance's financial support to ZachXBT.
Binance's Donation And Its Impact
In a controversial twist, Binance's assistance – a sum of $50,000 – was directed towards ZachXBT briefly after Machi transferred his Bored Ape Yacht Club (BAYC) non-fungible tokens (NFTs) to the exchange. The move was interpreted as a gesture of solidarity for the exchange's ongoing legal conundrum with the US Securities and Exchange Commission (SEC).
Related Reading: Crypto Sleuth ZachXBT Slapped With Defamation Lawsuit: Details
The succession of these events garnered significant attention on Twitter. CirrusNFT, a recognized figure within the crypto community and an acclaimed rug pull survivor pointed out the ironic correlation of the events in a tweet:
Machi sent all his BAYC to Binance to support them in their SEC case a few days ago and then a few days later CZ sends $50k to Zach to support him in the Machi case

W pic.twitter.com/e8QYREVNXu
— Cirrus (@CirrusNFT) June 17, 2023
His tweet threw light on the unexpected coinciding of activities between entities engaged in different legal disputes. Following CirrusNFT's tweet, controversy arose among the crypto circle with some speculating CEO Changpeng Zhao (CZ), may be playing both sides.
Clarification And Community's Response
Though the outward appearance of CZ's support for ZachXBT might seem partisan, the Binance CEO was quick to clarify his stand. Addressing the issue on the same platform, CZ emphasized that his support for ZachXBT should not be construed as taking sides in the ongoing litigation between ZachXBT and Machi. Instead, he expressed his backing for ZachXBT on account of his significant contributions to the industry.
He further elucidated that the financial assistance provided was aimed at covering ZachXBT's legal expenses, leaving the final judgment to the court's discretion. While expressing his appreciation for Machi's NFT transfer, CZ disregarded any potential discord that might emerge from these incidents.
Not taking sides. Just supporting a guy (who did a lot of work for the industry) for his legal fees. The court will decide.
Moving NFTs to Binance to show support is appreciated. No conflict.

— CZ

Binance (@cz_binance) June 19, 2023
Notably, the exchange's donation to ZachXBT is just a portion of the overwhelming support that the crypto community has shown toward him. The defamation lawsuit has seen crypto enthusiasts collectively donating over $1 million to ZachXBT.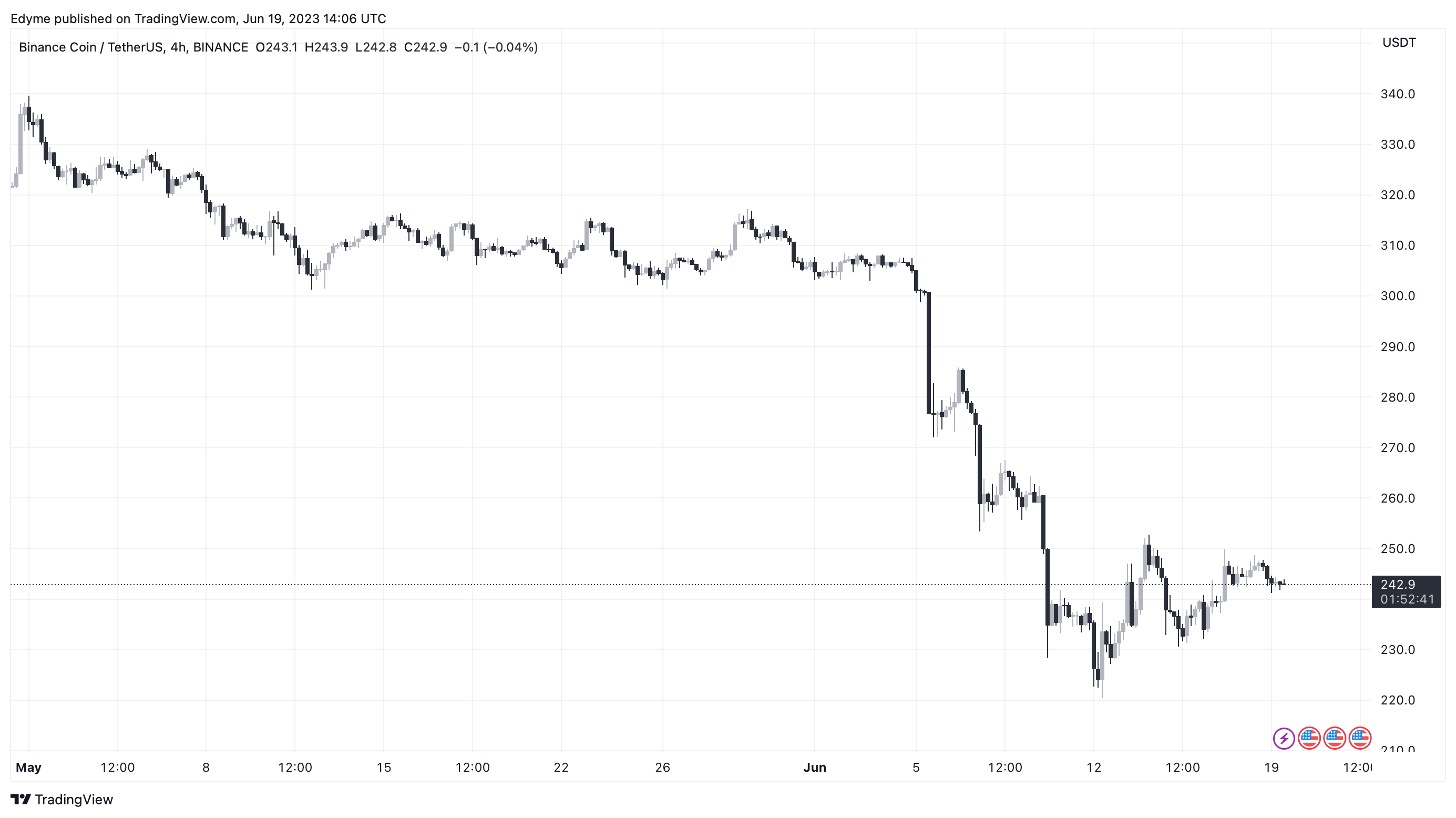 BNB)'s price chart on TradingView" width="2770" height="1556">
Meanwhile, despite Binance's ongoing lawsuit with the SEC, the exchange native token BNB has surged nearly 5% in the past week. At the time of writing, BNB currently trades at $243 down by 1.2% in the last 24 hours.
Featured image from Unsplash, Chart from TradingView