Major US stock indices made new 52-week highs recently, and the Nasdaq is approaching its former all-time high. Several key components of the index have set new price records, such as Nvidia. But Bitcoin and the rest of crypto? These risk assets remain stagnant.
In this article, we'll explore why boredom in BTC could eventually cause the cryptocurrency to blast off and outperform the Nasdaq. But before it does, the next stop could be roughly $47,000 per coin.
Capital Flows Elude Crypto Market, But History Says Its Coming
Capital flows in and out of different assets at different times in financial markets. The concept of sector rotation in the stock market suggests that profits in the tech sector at a market bottom begin to roll into industrials. This shift is already starting to unfold.
Because crypto isn't a sector of the stock market, it isn't featured on the sector rotation chart. And although there is less historical evidence, the recent relationship between the Nasdaq and Bitcoin certainly suggests tech-related capital flows into crypto.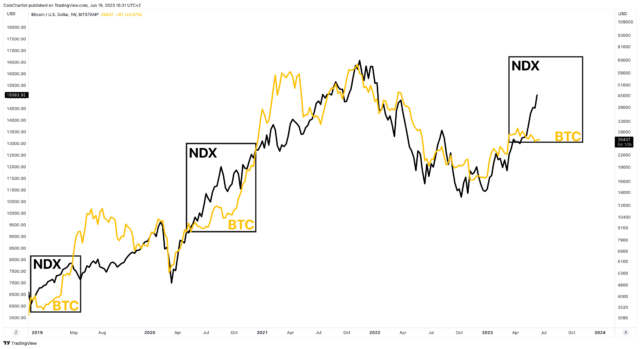 The above chart highlights that Bitcoin often lags behind the Nasdaq for weeks at a time. Once the divergence ends, BTCUSD catches right up to NDX and then surpasses it to a new speculative peak. This moment could be mere weeks away, if the behavior repeats again.
Bitcoin Could Soon Be At $47,000 If It Follows The Stock Market
If the behavior does appear another time, Bitcoin could be about to start a bullish rally. And if it does, it has a lot of catching up to do, according to the chart below.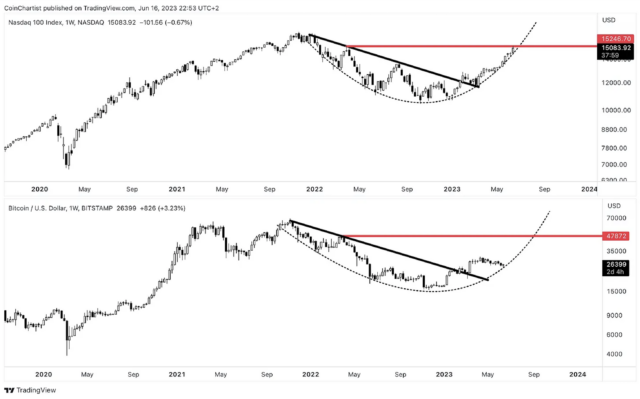 NDX versus Bitcoin" width="640" height="399">
The Nasdaq is currently trading at the 15,000 level – the same level it was trading at around the end of March 2022, marking the first major lower high before the bear market began.
If Bitcoin can recover to a similar level and point in time, BTCUSD will soon enough be trading closer to $47,000 per coin. There is no guarantee the relationship will follow the same path as previous instances, but as long as crypto doesn't collapse further, Bitcoin could soon find itself outperforming tech stocks by a large margin.
The above chart appeared in issue #8 of CoinChartist VIP alongside a dozen other exclusive crypto charts. Click here to learn more.