MicroStrategy's massive bitcoin investment has finally generated some paper profits for the business intelligence giant after the asset spiked above $30,000 for the first time since June 2022.
The firm started its accumulation spree in the summer of 2020, spending around $4.17 billion to purchase a stash of 140,000 BTC. At the moment of writing these lines, the investment is finally in the green, at least on paper.
Finally in the Green
Bitcoin's recent price surge beyond the milestone of $30K was welcomed by many individuals and entities who have increased their exposure during the market decline in the past several months.
One such organization is MicroStrategy – the Michael Saylor-founded business intelligence giant, which is the biggest corporate holder of bitcoin.
Its stash consists of 140,000 BTC, as the last purchase occurred last week when it spent nearly $30 million to buy 1,045 BTC. The company accumulated its holdings between August 2020 and early April 2023 at an average valuation of $29,803, distributing a whopping $4.17 billion.
It remained bullish on the asset despite its price fluctuations in 2022 and the severe decline during the Terra crash and the FTX meltdown. MicroStrategy sat on nearly $320 million of unrealized loss after bitcoin plunged following the LUNA/UST collapse. True to himself, Executive Chairman Saylor remained unfazed, saying:
"The bitcoin price is set by those with more money and less knowledge than you. In time, they will get the knowledge, and you will get the money."
Bitcoin's recent spike above $30,000 rewarded MicroStrategy's patience, and it currently sits on approximately $30 million paper profit.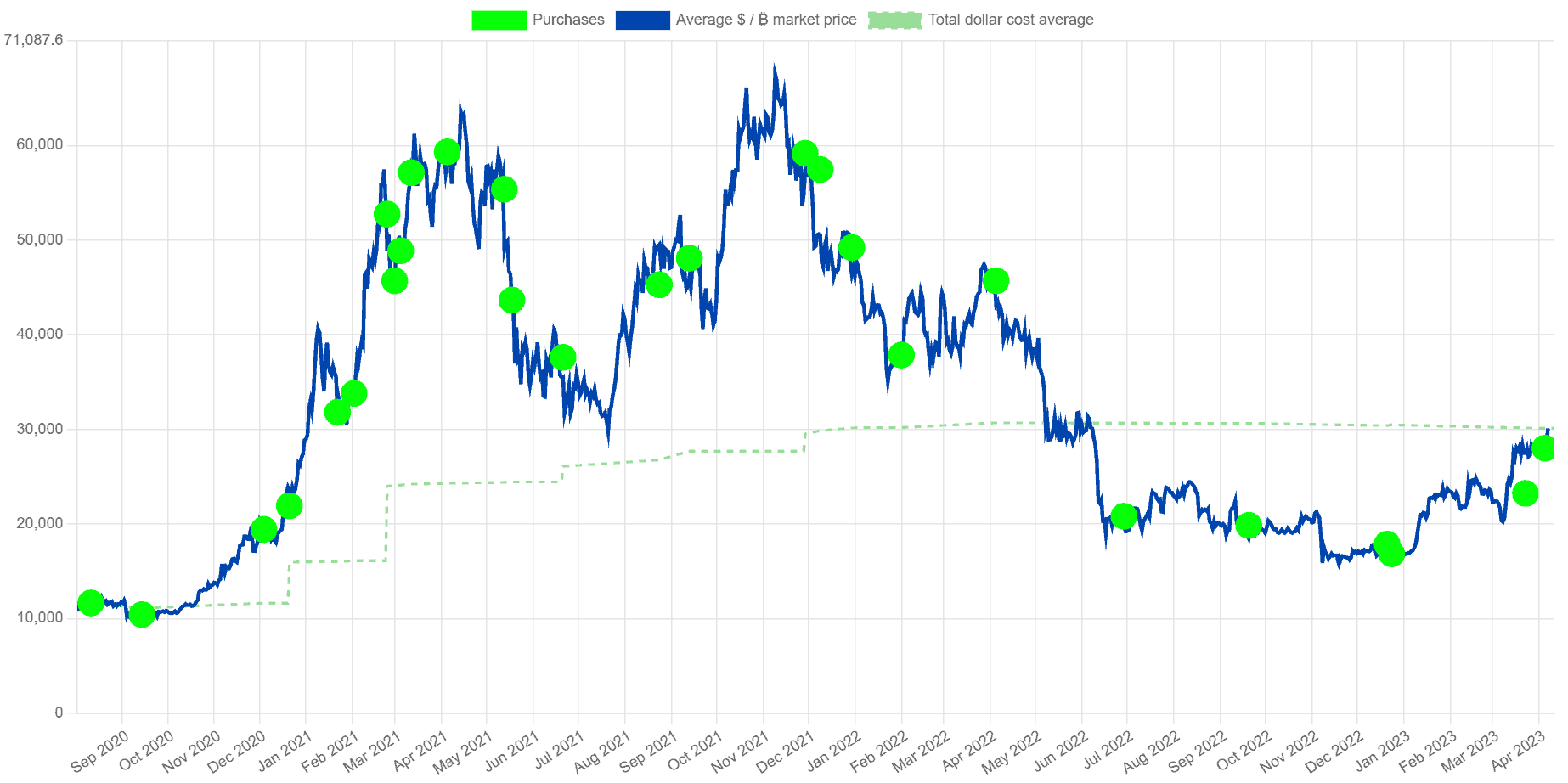 MicroStrategy's Bitcoin Stash. Source: SaylorTracker
The Dramatic Past Few Months
Bitcoin's price decrease towards the end of 2022 played a role in MicroStrategy's unsatisfactory performance in Q4. It recorded a net loss of almost $250 million, while its revenue dropped to $132.6 million (lower than the estimated figures).
In addition, the company incurred an impairment charge of $197.6 million on its BTC holdings during that period. In comparison, that sum was "just" $727,000 in Q3.
It is worth mentioning that MicroStrategy pivoted from its non-selling bitcoin strategy at the end of 2022 and parted with 704 BTC to generate tax benefits.
The trends this year seem to be entirely different. Apart from purchasing amounts of the primary cryptocurrency on several occasions and seeing its investment's valuation rise, the firm repaid its $205 million loan to the failed Silvergate Bank at a 22% discount.
The post MicroStrategy's Bitcoin Investment in the Green as BTC Reclaims $30K appeared first on CryptoPotato.